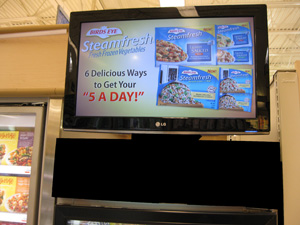 Grocery Store Chain
Using innovative marketing, one of ECI's National Grocery Store Chain customers begins using digital signage to improve sales in their frozen foods sections.
Profile
More and more frequently grocery stores are facing stiff competition for business as they strive to attract customers that are offered a multitude of places to do their food shopping. Everywhere you turn today, food products are appearing in non-grocery store environments such as drugstores, big-box retailers, discount clubs and more. In order to stay competitive, the smart grocery stores realize that their offerings have to be more and more relevant to the customers' needs. Meaningful communication with the customers has become more important than ever. It's no longer just about pricing. It's about offering selections, convenience and an inviting environment that causes shoppers to both stay longer and return again and again.
Objective
One of the nation's largest grocery chains wanted to increase frozen food sales while offering customers a unique buying experience they wouldn't find in other grocery stores. The objective was to install video signage in every frozen food section above the freezers to attract customers' attention, advertise various brands and compel additional purchases. The video signage had to fit esthetically into the store's look and feel, yet stand out enough to make an impact on buying decisions. It also had to be easily controlled from a central location so that video content could be changed or added at any given time throughout the entire chain or in select stores depending on marketing and sales objectives. The video signage also had to be durable enough to withstand 24-7 playtimes as well as be tamper-proof so that the units could not be altered or stolen.
The grocery chain has more than 680 retail locations throughout the United States. Consequently they wanted to work with a company that has a national presence and could install and service this project quickly and professionally at all their locations simultaneously. The chain chose ECI because of its outstanding national reputation for professionalism, quality installation, superior customer service and, most importantly, their well know ability to ascertain a thorough understanding of the client's goals and objectives.
Challenge
ECI was faced with the challenge that the grocery stores were not planning to be closed for the installation. They realized that one of their highest priorities was that the work had to be finished quickly and cleanly so as not to interrupt shoppers during business hours. The local grocery managers had informed corporate headquarters that the new freezers were already installed and just waiting for ECI's equipment. But when ECI's installers showed up at most of the locations, the old freezers were still in place, the new freezers were not installed and no preparations had been done.
Solution
2 300ECI's outstanding local installation professionals throughout the country worked above and beyond their own and the grocer's expectations to quickly remove old freezers and install the new ones so work on the video signage did not need to be rescheduled. As a result, neither the schedule nor the budget was compromised.
ECI installed commercial-grade LG televisions that are made to withstand wear and tear as well as be on and working 24 hours a day, 7 days a week. A Brightsign compact digital media player was installed behind each video screen allowing the corporate office to remotely upload video to be played in a continuous loop. The media player does not require any programming or maintenance, has no on/off switch and, after any power outage, automatically reboots and begins playing again. ECI deployed software at the corporate office so that the marketing department has the flexibility they require. They can remotely manage the video content playing on the screens at all the locations simultaneously or group them together in arbitrary ways such as regionally, locally, individually for test markets or in any other grouping they choose.
ECI worked to strategically position each video screen at the right angle for optimal viewing comfort and maximum visibility. During the installation process, the teams experimented with various angles and heights. They also tested it with customers to make sure it achieved the best possible results including being easy to see and comfortable to watch. ECI also designed custom mounts and security hardware for the video screens and the digital media player so that they could be installed onto the grocery freezers without the worry of tampering or theft.
Results
ECI was able to tap into its national network and install the freezers in more than 680 locations in just over four weeks. The grocery chain's video signage is used to display new featured frozen food products from a variety of manufacturers every month. The 15 to 30-second videos rotate in a loop to continually attract and keep customers' attention as they highlight products and educate consumers on the various brand features. The video signage eliminated the hassles of manually changing the signage every week or every month and added a level of consistency and flexibility that wasn't easily managed before. This is all to say nothing of the "wow" factor that could never be achieved with a static sign.
From the shopper's perspective, they come into the store and enjoy a high-tech experience that they're unlikely to find with the competition. Since the installation was completed the grocery chain has experienced a significant growth in frozen food sales from the freezers with video signage. The increase is as much as 3-5 times more than sales from the conventional freezers. Customer response has been so great that the ROI for this project was realized more quickly than anticipated.
ECI was once again able to showcase its ability and willingness to go above and beyond the call of duty to help the client achieve optimal results on a national scale on time and on budget. The grocery chain now has a competitive edge that will help it stay in the forefront of innovation and customer service. In addition, it now has an audio/video partner that will help guide it every step of the way.