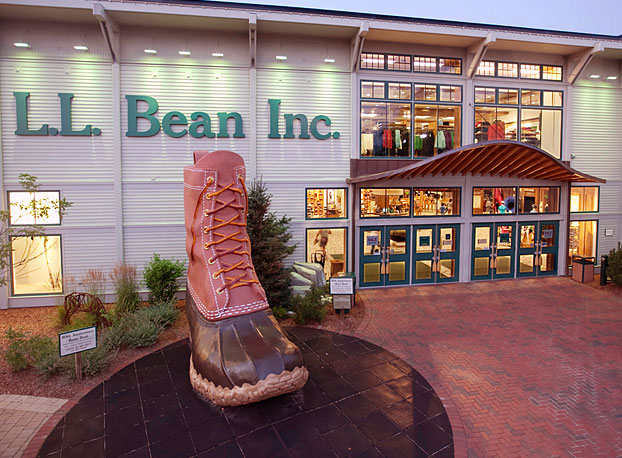 L.L. Bean
ECI Communications designed a turnkey digital signage program to sign participants up for the L.L. Bean's Outdoor Discovery Schools and cross-sell related apparel and products in stores.
L.L. Bean has been a trusted source for quality outdoor apparel, reliable outdoor equipment and expert advice for over 95 years. For nearly 30 of those years, its Outdoor Discovery School has been providing fun, introductory outdoor programs to its customers on a variety of activities from fly-fishing to clay shooting and more.
Objective
In today's highly competitive retail environment, LL Bean understands the need to keep customers engaged as a part of dedication to continuing to build and maintain its brand. To reach this objective, LL Bean wanted to highlight its Outdoor Discovery School programs inside its retail stores with kiosks and multimedia presentations that would introduce, educate and register participants on the spot for a course, trip or tour.
Challenge
LL Bean has designed its stores with large, open-area construction so that customers can roam easily and freely while enjoying their shopping experience. But its high 30-foot ceilings made it a challenge to implement an audio/video/technology experience that was visually appealing, user friendly and offered high quality sound and imagery at the same time with no echoes and no glare to diminish the overall effect. In addition, corporate headquarters wanted an easy to use content management system for all its audio and video systems that would allow content to be quickly and easily distributed uniformly to all its retail locations at the same time. Content would come from videos, satellite feeds, digital media players, and other sources and would need to be easily loaded and moved around within the multi store system.
Solution
LLBean1 300ECI worked with LL Bean to develop interactive user-friendly Outdoor Discovery School kiosks that would allow customers to learn about and sign up for hands-on experiences with instructors in such sports as kayaking, fly-fishing and more. ECI partnered with Real Digital Media to compile the content (audio/video streams, static signage and images) into an exciting and compelling multimedia presentation that highlighted The Outdoor Discovery School's weekend adventures, daily tours, beginner courses and guided outings. The content is distributed through an ultra high-speed data connection and plays on 42" plasmas with Bose speakers at in-store kiosks equipped with literature, a direct phone line, and an internet terminal to register participants for the activities. ECI used hanging pendant speakers precisely dropped at the appropriate level and spacing to provide a blanket of sound over the customer's head for clear, crisp sound without any echo.
ECI designed the system to give LL Bean a centrally controlled content management infrastructure. Corporate headquarters can create and edit digital files from any of many sources, such as satellite feed, video, digital media players and more, and within seconds have it appear in every store simultaneously. Even though each department within the store has its own video system, along with each individual checkout counter, corporate headquarters can have the same content playing on every system or choose to have specific content, such as live television feeds, playing in each different department. This way, every golf department, for example, can have a live satellite feed of a major tournament playing while the Olympic coverage is playing throughout the rest of the store's audio and video displays. ECI also created an enormous 15×15 foot video wall that's larger than life to display marketing promotions or live sporting events as the corporate headquarters chooses.
Results
ECI's innovative approach to creating an interactive and stimulating experience for LL Bean's customers was a great success. LL Bean was provided with a standardized audio/video/kiosk system that was rolled out into all of their retail locations nationwide. ECI worked with LL Bean to develop and tailor the system for its specific business needs and technical specifications, and the result was a user-friendly, easily accessible and engaging platform that customers enjoy and remember.