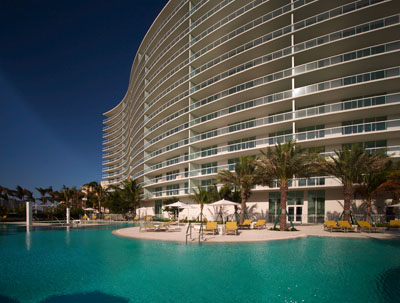 The Plaza at Oceanside
WCI sought out ECI to help them develop a system that once successfully designed could be implemented in future locations without reinventing the wheel each time.
Profile
WCI's The Plaza at Oceanside in Pompano Beach, Florida is a spectacular ultra-luxurious property that was built to appeal to those who wish to live in the heart of an active community, yet appreciate the luxury and relaxation of the resort lifestyle. The Plaza is a state-of-the-art 17-story condominium complex with a unique contemporary structure where residents have exclusive access to a 50,000 square foot indoor and outdoor amenities level encompassing the entire fourth floor of the residential tower, while being just steps away from beaches, shopping, dining and exciting nightlife.
Objective
WCI was building one of the most luxurious residential complexes in South Florida and marketing its fourth-floor "Amenities Level" as a strategic selling point to realtors and future residents. The Amenities Level consists of entertainment, fitness rooms, pools, fireplaces, social pavilions, café's, media rooms, outdoor lounges, billiard rooms, and more. All these amenities were required to be equipped with state-of-the-art audio and video equipment. These systems also needed to be beautifully integrated with the spaces, provide user-friendly functionality and create and enhance the overall luxurious ambiance the developers wanted to offer. As a national commercial property developer, WCI was looking to partner with a national audio/video company that could service future projects throughout the country as well. Once a system was successfully designed and implemented in one location, WCI wanted the ability to replicate the results at other properties without reinventing the wheel each time.
Challenge
The Plaza's Amenities Level offers public spaces that are accessed and used by all residents and guests on the property. In addition to requiring state-of-the-art electronics and functionality, it had to be user-friendly for all ages yet be tamper resistant and durable enough to withstand unsupervised usage. There were a multitude of spaces, each with distinct specifications. In addition many required components that could be adjusted for different needs at different times of the day or year.
Solution
ECI designed and installed the entire audio, video and electronic gaming systems for The Plaza's Amenities Level. Background music systems with streaming Sirius XM Satellite Radio were implemented for all its public spaces, elevators and lobbies. Six individual tuners were used so that different music could be played in different areas, and volume could be controlled independently for each separate unit.
ECI used specially designed water-resistant flat screen televisions and speakers for the audio and video systems at the pool, bar, cabanas, outdoor fireplace and social pavilion to help create mood and ambiance throughout the outdoor spaces. ECI designed the fitness center with multiple television screens that could each get their own DirecTV® feeds, along with a fully functional juice bar and state-of-the-art audio sound system. ECI installed the most advanced new electronic gaming systems in both the recreational facilities for children and teens. Both the Sony PlayStation® and Xbox®, along with multiple television screens, DVD players, and over-sized bean bag chairs were included in the design, so that the children could comfortably enjoy their videos as well as their surroundings.
The news café was installed with a large-screen stock & information ticker fed with up-to-the minute news and finance information, as well as five additional video screens that can play any satellite television feed. Residents and guests can access a wall-mounted control panel to choose which audio feeds they want to hear on the main center screen. The community social room/outdoor lounge was equipped with a restaurant and bar to host private parties. ECI installed iPod® inputs at the bar, so users can play their private audio selections. A publically-accessible DVD player was also provided so the video of their choice can be played.
The wine room was equipped with its own Sirius XM Satellite Radio tuner and iPod docking station enabling resident to sit back, relax and enjoy a bottle of wine while they listen to their favorite audio tunes. The design of the media center included multiple computer stations with internet access for all residents and guests to use. An audio/video system with DirecTV is also available. The billiard room was installed with two very large 65-inch television screens with a sound system and iPod docking station. This gives residents full control of their sound and video while shooting a game of pool. And lastly, ECI installed a state-of-the-art 25-seat theatre with handheld touch-control remotes to operate the sound and audio of whatever video is playing on the large screen.
ECI specially designed and built each audio/video system at The Plaza to be incredibly user-friendly, as well as sturdy and secure enough for unsupervised, public use. Touch-screen systems were installed on the walls and designed so that users could easily access the systems, but were unable to break or steal them. Custom fabrication was required in many instances where varying degrees of access to the systems was required. Nevertheless, the ultimate goal of system longevity was still achieved.
Results
Residents and guests at WCI's The Plaza at Oceanside now have one of the most innovative, user-friendly, state-of-the-art audio and video systems ever installed in a large-scale residential community. The overall project took less than six months to complete and became the standard that all future WCI development projects will use. ECI created the most advanced systems while simultaneously planning the streamlined design and installation of upcoming projects on a national level. It's projected that this will reduce WCI's workload o future audio/video projects by 75 percent.